Innovative eye Supplement Containng  
over 22 natural eye beauty and health ingredients 
   

  Eye Sclera Whitening and Brightening

   

ADVANCED EYE WHITENING FORMULA 

The Advanced All-Natural Formula in EyesWhite eye whitening pills helps to whiten the sclera of your eyes naturally by removing toxins and other impurities, giving them a brighter and more beautiful appearance.

Complete Eye Health and Beauty
ALL NATURAL INGREDIENTS 

EyesWhite contains only natural organic ingredients that help to whiten and brighten your eyes naturally. These natural ingredients help to remove impurities in your eyes, making your cleaner, brighter, and healthier.


SUPPORTS EYE HEALTH & VISION

EyesWhite isn't just for beautiful eyes, but also contains ingredients that supports vision and eye health. Your eyes will be more healthier and beautiful, both inside and out.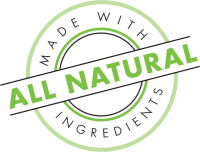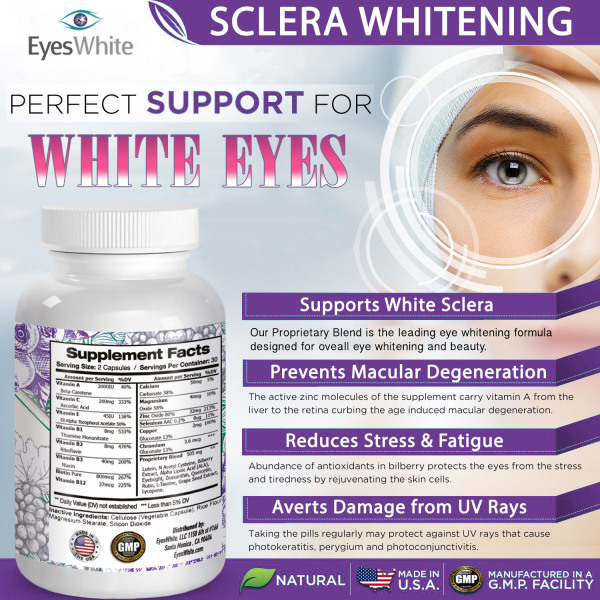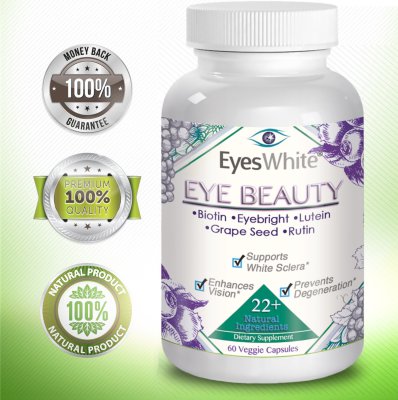 Get The Most Powerful Product. Beauty and Health, with its unrivaled ingredient profile of over 22+ ingredients, we have emerged as a eye health market leader. We wanted to create something that was completely safe, and utterly potent; the most elegant solution to helping the body improve eye health, beauty and sclera whitening. 
Get Lightning-quick Shipping. All of our products are stored by Amazon, which means that prompt and secure shipping is guaranteed. Amazon Prime users get second-day free shipping!
Get Results or Your Money Back. With our no-questions-asked Money Back Guarantee, you're always covered. Also, as customer satisfaction is our number one priority, we offer round-the-click support.

If you ever have a query or concern, please don't hesitate to contact us.
Your purchase supports the children's eye foundation 


Helping Prevent  Vision Loss in Children
Each year more than four million babies are born in the United States.

Of these children, approximately one in twenty requires the specialized medical expertise of a pediatric ophthalmologist (Eye M.D.)

to avoid permanent loss of vision.

The CE aims to eliminate preventable blindness in children.